| | |
| --- | --- |
| - In 1954, Castañer painted a mural dedicated to San Pancrazio at María Auxiliadora Sanctuary in Alcoy (80 m2) | - 1957, murals dedicated to the Virgin at Santa Maria Archiprestal Church in Alcoy. They are divided into eight panels, on a total surface of 150 m2. |
| - 1958, for the Middle School Education Institute 'Padre Victoria' in Alcoy, Castañer painted a Christ onto a metallic cross (2.00 x 1.50 m). Censored and admitted versions are shown enlarged on click. | - 1961, Ramón painted a mural at Concetaina Salvador Church, with 82 m2 representing the Holy Dinner and the Lucernary angels. |
| - 1965, Valencia. Iglesia del Cristo de la Luz, two canvases, 'La Venida del Espíritu Santo' (5.00 x 2.00 m) and 'El Cristo de la Luz' (3.00 x 2.00 m). | - 1967, Valencia, 'Virgen de Fátima' mural (43 m2), at the Iglesia de la Virgen de Fátima. Picture made on a wall. |
| - 1988, Castañer painted the 'San Juan Bosco' Chapel, 200 m2 mural, María Auxiliadora Sanctuary in Alcoy, where his extraordinary skills for resolving the most difficult problems of animated perspective, harmonic rhythm and volumes are evident. | - 1993, 200 m2 mural of San Jorge (the Festa Altar), also María Auxiliadora Sanctuary. These paintings are more structured, more theatrical with optical and foreshortening effects. |
In summer 2001, Castañer has donated a picture to the village of Agres. The painting illustrates the one-handed shepherd, Gaspar, whose arm was restores to him by the Virgin of Agres. In this canvas Castañer's strengh and typical expressivity are patent. Dimensions (2.50 x 1.50 m).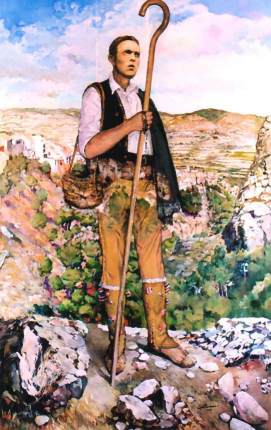 Ramon Castañer In 1961, as a gift to Don Cirilo (a well-known parish priest from Alcoy) he made the 14 stations of a Via Crucis.