Ramón Castañer deposit of works at Industrial Circle in Alcoy
The Industrial Circle in Alcoy, recreational and cultural private company founded on January 1, 1868, was born as an entrepreneurial society meeting point in Alcoy .
Commemorating the 150th anniversary of the Industrial Circle, it was inaugurated on February 8, 2019, the date on which the painter were 90 years old, the "Castañer Hall" with 25 works that are a sample of the 84 paintings that the painter's family has left in deposit. We want to thank Eduardo Segura Espí, president of the Industrial Circle, for his unconditional support and his effort to have made possible the painter's exhibition.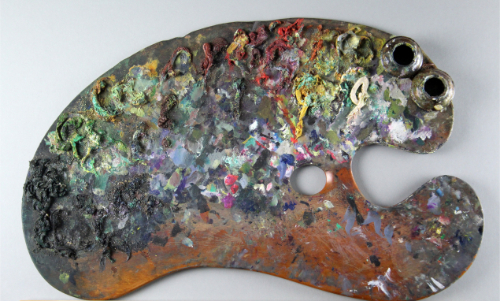 Ramón Castañer painting palette
The 84 scrollable photographs of the above carrousel are numbered according to the order in which they appear in the catalog published by the Industrial Circle. The exhibition curator was Jose Luis Antequera and the photographs of the paintings were made by Indalecio Carbonell. The images are extendable and contain an explanatory text of each work written by the wife and son of the painter where information about each work is collected along with memories and experiences.
Exhibition brochure.
El Nostre newspaper has published several news about the exhibition:
ElNostre09-02-2019 by Sheila García.
ElNostre16-03-2019 by Eduardo Segura Espí.
ElNostre23-03-2019 by José Luis Antequera.
Article of the annual Industrial Circle magazine:
Industrial Circle magazine 2019 by Adrián Espí.
The Diario Información newspaper also published news about the event:
Castañer revive en el Círculo Industrial
La familia del pintor Ramón Castañer deposita sus obras en el Círculo Industrial de Alcoy
Youtube video about the exhibition (in Valencian language):